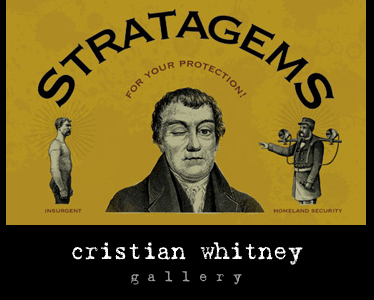 syntax is pleased to present another Denver artist. This time we were lucky enough to find Cristian Whitney and his myriad of words and work. The versatile Whitney produces in a variety of mediums, themes and styles - but when we came across his "Freak Show" gallery, we had to be a part of it.

Even if Whitney's ideology doesn't sit well with you - the messages engrained in his pieces are striking, well-executed and his compositions are attractive. With his aim set on challenging his viewers to be aware, his intentions span the breadth of all political and social worldviews.

With ambitious future plans, Cristian Whitney appears to have the requisite tools to set things in motion. Take a look at what he had to say to us, and then check out his website: www.the-77.com.



HOW LONG HAVE YOU BEEN AROUND DENVER?
-Born and raised in Denver, Colorado. I grew up on the north side.

HOW LONG HAVE YOU BEEN INVOLVED WITH THE ART SCENE IN DENVER?
-In 2000, I decided that fine art and design was really what I wanted to study and learn in college and to ignore society that has always tried to tell me that I need to choose a real career. Ever since then I have been soaking up all kinds of culture and art, as well as trying to show my artwork anywhere and everywhere that I can.

HOW DO YOU FEEL ABOUT THE DENVER ART SCENE?
I am very proud of the Denver art scene, it seems like there has been a surge in the last few years and I feel that Denver is finally honoring a variety of cultures. Denver is a rich and colorful place with so many types of genres now blossoming in the city. I hope to convince everyone I meet in the world that Denver is no longer a cow town.

WHAT KIND OF (ART)WORK DO YOU DO?
If it's creative I do it but I am mostly known for my photography and design. My subject mater has been everything from a dumpster in the alley, to the Virgin Mary, to human rights issues to politics.

WHAT IS YOUR ART BACKGROUND?
My background as it pertains to art comes from the first few days of my life. I think it helps to have a crazy, unpredictable, and sometimes dark past to be able to see things in life that others think are trash or of no worth. Usually the things you would walk past are things I can turn into beauty. The streets are an amazing place to find the most interesting subject matter.

WHERE HAVE YOU SHOWN YOUR WORK?
St. Francis Cabrini, Core Gallery, Revoluciones and Th'ink Tank

IN SOME OF YOUR DESIGN, ILLUSTRATION WORK, YOU HAVE AN EXPLICIT MESSAGE IN THE PIECES, BUT TO BE MORE CLEAR - WHAT KIND OF A MESSAGE ARE YOU INTERESTED IN IMPARTING TO YOUR AUDIENCE?
Awareness! It is so easy to for us Americans to just sit back and let other people make our decisions for us based upon their agendas and interests. I am constantly trying to entice people to look at things in a different light, quit taking orders and to fucking think and act for yourself!

WHAT ARE YOUR FUTURE PLANS?
To keep producing art, open a few minds, develop the-77.com more, and eventually open my own gallery.