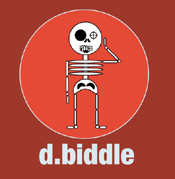 Charcoal is black and there's a piece of it on the table before you. Go ahead and draw this picture for your self:

A man named duncan is sitting in a room with the lights out. He's cradling his beat-up guitar in his lap. Here, in the absence of anything white, duncan does not write a novel. No, in this darkened room, duncan's eyes are blind.

Here, a man is sandwiched between four walls and the six angles of his madness. Here, duncan is stuck somewhere between a scream and a hushed, throaty secret. Here, in this blackened room is where duncan takes a clear look at the world around him, through his wild, red eyes.

This is duncan barlow composing music. This is duncan barlow drawing songs.

And this is where the ambient, indie rock act of d.biddle found its provenance.

After leaving a productive and public career in the hardcore scene in Louisville, KY, (with such bands as endpoint, guilt, and by the grace of god) d.biddle's frontman, duncan barlow headed west to begin anew. And while this story has been told a million times throughout the ages of America – duncan barlow headed west, not only to tell a story, but to write his story. An Alum of Naropa's Graduate Writing Program, and currently a Doctoral Student/Writing Professor at DU, barlow is an oddly gregarious and warm character – who is reaching out into the world, not only through written words, but also by the space between them: The music.

And barlow's newest project, d.biddle, reflects exactly this.

At once, d.biddle is hushed, furious, wild and in-control, as if the entire musical venture is an articulation of that exact moment when a driver is skillfully carrying his skid into the ditch, so as to avoid smashing into the blur of oncoming traffic. Blessed with a talented cast, including Porlolo's Erin Roberts (trumpet, keys), Jeff Davenport (Bass), Ben DeSoto (drums, flute) and Danghead's Jaime Smith (guitar, clarinet, back-up vocals), barlow leads the charge – sweeping the unit's sound from swells of the sea's low tide to the choppy waters of everything altered and anything feral.

For barlow, now finishing his Doctoral Thesis and correlative novel, the interplay between writing and music are apparent. Take a look at d.biddle's lyric sheet however, and the tie isn't so obvious. But that's because, as barlow believes, music is more of an instant emotional outlet and the role. And while barlow does believe that his lyrics are, in the end, compromised – it is due to the necessity that his process demands.

If there was any appropriate classification; and if music is literature – you could say that d.biddle is Dark Fiction. Afterall, the provenance for its sound and direction begins in that nameless black room, behind the shadows. Adept at pushing these literary elements, barlow is not afraid of personifying events and places and mingling in the midst of rhetorical situations which are in dire need of explication. And blurring the line between romance and politics? Yes, barlow has done just this. From a dark room, where he processes his filmed experience and translates it into tongues of sound, barlow has successfully magnetized his words to align, in power and endurance – with the often times haunting sounds that the players of d.biddle eek-out in their tight stage performances.

d.biddle first release, out on Sao Bento Records, is a self-titled full-length that sits on its own in record stores. You could call it folk, Americana, indie. Whatever the case may be – classification is for consumers. And music, is for humans with ears that are large enough to hear. The album, recorded and produced by Pall Jenkins of the Black Heart Procession, is at times sparse – but it is also bright and airy. With a trumpet, keys, flute and a clarinet, duncan barlow can't even depress the sound deeper than melancholy.

With a summer tour for 2006 slated and a forthcoming album, d.biddle is sure to maintain their hold in all the dark rooms of Denver, up on stage, below the lights; and filling the corners of every venue they inhabit for hours on end.

Keep up to date with the band's happenings, shows and releases at www.dbiddle.com .