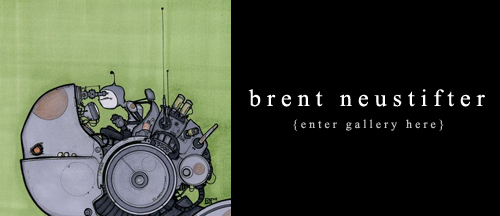 There is a fine line between what one does in private, and what one decides to make public. Just recently Brent Neustifter crossed this line. And he's not going back.

An amalgam of everything Science Fiction and robotic, Neustifter's work deals with the metallic and spacious elements that belong to a realm outside of reality. Even he uses the word "fantasy".

A long-time Denver resident, Neustifter began drawing and creating these unique images as a means of escape. And while he did it for himself, his portraits and alien creatures garnered attention from those around. And when you're this good, the push from the world around you comes quick. So, within this last year Neustifter made the push to make his work public.

And the payoff has come just as quick. With a showing at the Plastic Chapel early this year, Neustifter garnered some local recognition and heads began to turn. His work, primarily done ink and some screen-tones – are intricate. The subject matter is wildly imaginative. And his sense of composition is striking. His creatures, in conjunction with the striking colors that he has decided to use, make his work stand-out anywhere, on any wall.

New to the scene, syntax looks forward to seeing what the future holds for this Denver artist. Keep abreast of his current openings and new works at www.myspace.com/snailbombb.