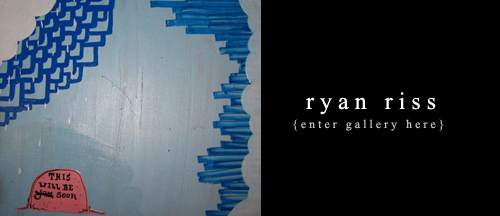 I am feeling this trend wherein visual art is not completely taken-in with the eyes. It seems that other organs, apart from the most obvious – are participants in this sensory dance. The heart, the gut. The intuitive brain. The right brain. The back of the neck.

Denver artist, Ryan Riss' work is pushing audiences to this extreme – of employing faculties that were unknown in delivering meaning to the outside world. But with his deceptively simple pieces, Riss' impossible task of assisting in interpretation has been cleverly articulated. In his words and phrases and everything unspoken, Riss' wit can be seen in all of his characters, animals and installations.

There seems to be another trend – in the Lowbrow artworld in general, and more particularly – of some of the artists here in Denver. Animals and strange creatures abound. Lions, tigers, bears – in all sorts of odd shapes and contortions. I wonder about this as I look at Riss' work, especially in conjunction with all the toys (i.e., those at the Plastic Chapel) that seem to run in this same vein. I wonder and then I ask, what is going on?

Relying heavily on a street sense in his work, Riss' savvy use of interesting textures and mediums is fast becoming his staple in the Denver art scene. Having shown at the Plastic Chapel this winter, be on the lookout for more of Ryan Riss' work around town – as he has just begun to make his mark.

To stay updated on Riss' new work, as well as his gallery openings, go to: www.craptical.com.