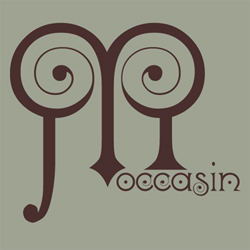 The story of Moccasin is the story of a sound.

As it should be.

A raw blend of heavy psychedelic fuzz, Moccasin's idiosyncratic resonance is infused with a notable wealth of ethereal delay – harkening back to a different time in the music world. And while this appears to be true topically – the truth is that Moccasin has managed to create a unique sound that struggles to conform to traditional descriptors.

When you say musician, I say sound. When I say painter, you say vision. Right?

Sure. But, don't draw your lines too heavily, or too strong. For while the players in Moccasin are highly adept musicians, they are also akin to painters – adroit in shaping and molding a pleasing palate of tone colors and textures. An example of this craftsmanship is the careful handling of the band's vocals. Because where traditional arrangements would coarsely and casually throw a voice out and into the front of the sound, instead of complementing that sound, in the way another color would – Moccasin's vocals are neatly dripped over the ensemble, in the way an additional guitar would find its destination in complimenting the hands around.

Moccasin, composed of Ryan Sniegowski (guitar and vocals), Scott Bagus (guitar), Eddie Dugan (bass) and James Barone (drums), is not a boisterous and ostentatious act. In fact, they're a soft spoken and humble outfit that predicates their image and ego on the sound of their strings and drums.



Ask them what Moccasin is about and anyone of them is apt to answer that they are "the sum of all their parts". True. Without a singled one of them shouldering the songwriting duties, they are a true collaborative effort. And while there is a fixed destination of their parts – the journey to those summery places varies. And this may be the band's precise magic: For, from night to night the tempo and textures find differentiation and subtle wanderings, always bending the outer reaches of their production.

At first glance, Moccasin's notion of compositional dynamics stands apart from the traditional stops and breaks of most other bands. But don't let your cursory glance fool you. No, upon digging a little deeper, their dynamics begin to look much more complicated, mostly due in part to the fact that they are laying wait under their thick signature layers of fuzz.

With an ambitious tour that took them to both coasts in 2005, as well as a stop at South By Southwest in early Spring of '05 – Moccasin has earnestly reached out and into the musical landscape. And it has paid-off, as this year, Invisible Cities – a record label in San Francisco – picked-up the band and will handle the band's future promotion and distribution, thereby helping them carve-out their landform in the complex musical world. And with the re-release of the band's '05 EP, Last Leaf, which includes two new tracks and will be released as their first full length – the band's upcoming efforts should take them even further.

So, keep an eye out for this Denver band, as their stock is rising higher and higher into the oxygen depleted air of the Queen City.

Moccasin can be found at www.moccasinmusic.com , or www.myspace.com/moccasinmyspace . Also, you can always locate one of the band's upcoming shows on syntax's Event's Listing Page.