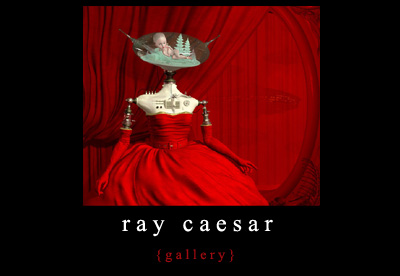 If Ray Caesar isn't at the top of his game, he has to be close. An appearance in a film or a mainstream commercial is about the only thing that could eclipse the artist's accomplishments to date. Flip through the pages of Juxtapoz, talk to anybody about LowBrow Art, and undoubtedly, his name appears toward the top of the list. His work is undeniable and, at this point, it is nearly impossible to mistake his hand for another.

In Issue 2, syntax was given a valuable opportunity to work with Caesar – who, apart from being wildly talented, is also extraordinarily kind, generous and at times, hilarious. A testament to Caesar's generosity and warmth was when the then-Denver band The Very Hush Hush, approached the artist about providing artwork for their new album, mourir c'est facile. To which, he kindly obliged. For this and more, syntax has been thrilled to work with Ray Caesar.

And while Caesar is part of the new wave of art, executed on the computer – this is no way cheapens either his effect on the viewer, or his delicate and complex craft. In reality, there probably is no other way to articulate the textures and depths in any other medium – in the idiosyncratic way that Caesar is able to. His process is interesting, from the creation of a true skeleton figure, to the laying-on of the textures that he collects. Yes, collects. From skin to grass and glass and tones and textures found everywhere in the world – Caesar's often bizarre compositions are the creations of his days spent with an eye open, collecting.

Now 5 years ago, Caesar had a series of dreams following some close family deaths, from which he began pulling the ideas that would fill his compositions. Subsequently he quit his day job and has been working at the top of the industry ever since.

On the topic of his subject matter, Caesar exclaims, "People think I paint pictures of children… I don't! I paint pictures of the human soul… that alluring image of the hidden part of ourselves… some call them ghosts or spirits but I see them as the image of who we truly are, made manifest with all the objects and bruises that filled the story of each life."

Constantly working, Caesar has supplied syntax with the newest series of his work. You can follow madman Caesar, by frequenting his website - where you can purchase his work through the Jonathan Levine Gallery. Please visit Ray at www.raycaesar.com.

Or,go see Ray's new syntax gallery - by clicking on the image at the head of this page.