&nbsp &nbsp &nbsp &nbsp &nbsp &nbsp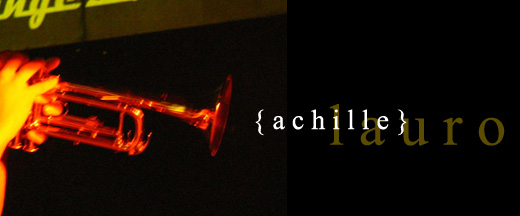 On September 12th I was sitting in the back of the hi dive, alone and with only a tattered heart and a busted ego. My mind was racing to and from thoughts of chasing my girl, a couple thousand miles away and well out of my reach. And while my social life that night had been teeming with everything good and buzzing with reception, I was tired. Half-broken and too drunk to make my way out and onto the concrete streets and everything unforgiving, I sat, slumped in a plastic chair.

Then Achille Lauro took the stage.

Several songs into it and the girl sitting behind me said that she had chills – look she said, see my arm? It's the music. What are these guys called?

I wanted to turn to her and say yes, I am stricken, saddened – but I feel much better now. Their name is Achille Lauro and it's okay if you feel this. Because yes, I feel it too and I have been crying for the last two songs now – not for me, or the tempest of the sea – but because I am all the richer for sitting in this dark room, watching the Achille Lauro not be held hostage, but run wild over the minds of those paralyzed by their sound.

And this is where my story begins with the Denver act, Achille Lauro…

There is a picture of an artist in his cave, working and pursuing with the great expectation that his ultimate toil will lead him out of that cave and into the hearts and minds of those living in the world.

The picture of Achille Lauro is not too far removed from this.

Coming of age in 2006, the expansive 5-man act of Achille Lauro (Matt Close: Vocals, guitars, keys; Luke Mossman: Guitar, Glockenspiel, keys; Ben Mossman: Drums, samples; Brian Joseph: Guitar, trumpet, vocals; Jon Evans: Bass) is garnering some interesting attention – on account of their multifarious arrangements, their jazz-infused melodies and their altogether impossible-to-categorize sound.

Blending players from different musical styles, the picture of Achille Lauro is most definitely akin to the artist in the cave. Initially born out of a couple Mossman brothers' melodies, the band solidified when the musicians came together and each player took it upon themselves to hone new skills, adapt and prepare for a musical landslide in their repertoire. And while they have landed on something extraordinary and fluid, the amalgamation of the players wasn't all that easy. On account of the vast musical styles afforded in each of the five musicians, each player was forced to retreat and exhibit patience through some calculated individualism; because in the end it was always about complimenting the other players and coming back into the whole.

And while the individual talent is obvious, standing at the foot of the stage at one of their striking shows – it is once again about the idea of the many coming together, in one fluid piece.

Here is the picture of the artist coming from the cave, to find the open arms of his brethren, beckoning the whole. The whole. Saying: The work you have done is won. We are one and complete. Come now. Come-go…

Taken together it is difficult to see any gaps between the moving parts of this thing called Achille Lauro. The band's notions of space and dimension in their compositions are arresting. Their melodies push at all seams by every instrument and every player, at all times – but each ripple is without a fold. Where one instrument extends its hand, the others retreat in a graceful and complicated dance, meeting somewhere in the middle – with all hands unmitigated and sheer.

But, what do you call this dance, this Achille Lauro?

Achille Lauro doesn't know and I'm not sure anyone has an interest in pigeon-holing their work. They are at once a strange and beautiful conglomeration of jazz, a romantic death lounge act and some rock n' roll heavy gauge – with movements and crescendos and ultimate spaciousness.

Despite the fact that they are relatively new to the scene, for now the band is standing with its back to the cave – the private and personal work having been won. And now with the release of their EP, Achille Lauro is rightfully looking to the future – of getting on the road and stunning more audiences with their altogether magical shows.

So keep-up with Achille Lauro at: www.achillelauro.com because surely you don't want the ship to pass by you – even if it is being held hostage…

Photo by Sarah Cass , www.sarahcass.com.