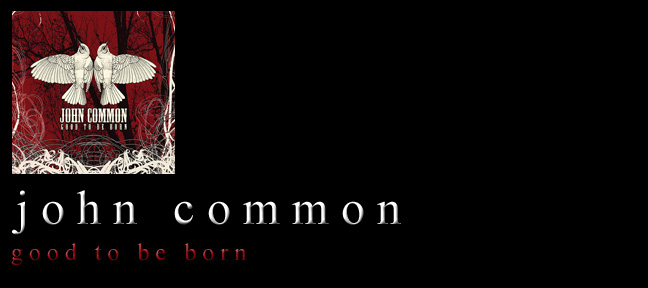 For the last couple of years, there has been one question floating around Denver. Is something really going on in Denver's music scene?

If we need any more evidence that speaks to the vitality of our expanding catalog of acts, John Common's new album, "Good to be Born" is that kind of prescription. In this much anticipated album, Common has managed to create a landscape of breadth and depth. Carefully mingling a spacious arrangement of guitars and drums, Common has taken his sound a step beyond traditional orchestration with his potpourri of odd antique records.

Tastefully done, Common's penchant for accompanying the found recordings with traditional arrangements do not feel out of place, nor hokey. With phones ringing, and voices weaving around in the background, there are typewriters clicking, records spinning their last revolution, and a whole menagerie of other quirky sounds – everything is artfully set in front of some rather dreamy incantations and summery songs.

Undoubtedly, Common is a strong songwriter. And in a town that is bursting with a variety of talented writers, Common exerts his talent through his sense of pacing and melodic diction. Each are varied, textured and at times, moving.

In all, "Good to be Born" affords a listener with a heady sampling of sound and space. And while part of the album's magic is in large part due to the careful execution of the recording and engineering process – Common does not leave himself empty in performance. Everything in "Good to be Born" is transferable to the stage and the waiting heads of the Common faithful.

And while Common and the boys have something strong to stand-on with this album, they are by no means done. No, with Common's obvious ambition and wealth of material, the issue of longevity is not one at all. Common has nestled himself into a space that has afforded him a wildly-talented cast of musicians, a dense array of fans and a style that isn't going to be touched for a long time to come.

It's out. And not to be forgotten.

Keep in touch with John and the boys at: www.johncommon.com.