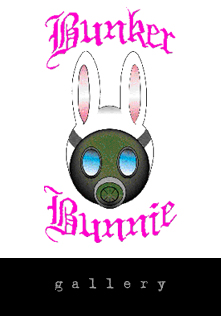 The correlation between Denver and fashion is typically stated in one heavy breath: the Queen City is always a year behind the trends on the coasts. And while this simple statement appears topically and traditionally to be true, there are some who feel this is a definite misnomer.

Lisa Pierce of Bunker Bunnie fashions in Denver, knows that this isn't necessarily the case. Starting ten years ago, Pierce began by simply creating the pieces of clothing that she wanted to wear, for herself. And while she began merely by amending articles she bought, Bunker Bunnie's fashion world quickly took form - due in large part to Pierce's rigid tastes and exceptional eye and talent to create particular costume pieces for friends.

Sitting in front of her, Pierce's rockabilly leanings are obvious. Her fashion and cultural interests hearken back to the more classic era of the 1940's. And her Bunker Bunnie creations are indicative of this influence. Pierce has created fashion that ranges from fetish gear and corsets to 40's influenced uniforms.

In the short time that Bunker Bunnie has been active in selling her wares, she has been involved in such events as the Denver Dark Arts Festival, and a myriad of After Dark Media events. This spring, Pierce's wares will be displayed at Viva Las Vegas, the annual Rockabilly and Car Culture festival.

From her men's and women's 3-piece suits to her "Hello Kitty" Candy Striper outfits, Bunker Bunnie's wares are certainly loud. But what Pierce also aims for is that sensibility that is wildly apparent in all 1940's fashion: timelessness and elegance.

And while these notions are apparent, each Bunker Bunnie piece is also a deliberate attempt at exerting one's personal style. It is a statement that one has taken the time to decorate themselves with carefully-plotted patterns, fabrics and accessories. This, in Pierce's opinion, is the lesson of the 1940's: to take the time to make artful choices about the clothing one wears.

And while the East and West Coast may still be ahead of the land-island of Denver, with things like the Internet it is possible for anyone to procure nearly any piece of clothing. And with Bunker Bunnie's do-it-yourself, carefully cultivated style it is obvious that even remnants of World War II vintage clothing can be made available to anyone. If you haven't the means or adroit talents to make it for yourself, then you may find it available through Bunker Bunnie.

And soon.

Relying on the means that is sewing the fashion and global together, Bunker Bunnie will be making more cut and sew pieces available to the public by means of the Internet (her website is forthcoming). As well, Pierce will offering more wearable vintage pieces for Viva.

All photos courtesy of Tim Sutton Photography: www.kustomimaging.com.
Special thanks to the Cruise Room.

For any ordering, or for additional information please email Bunker Bunnie at: bunkerbunnie@hotmail.com .