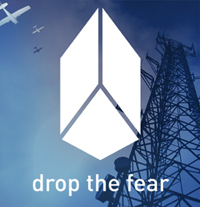 The name Drop The Fear nods heavily in the direction of letting-go. Falling. Freely. And with a listen to this Denver band's debut release, the contiguity of their name and aim is striking. From somewhere in a maze of pillowy cumulonimbus clouds.

Emerging from the mesh of Denver's Electronic, Shoegazer Rock scene, Drop The Fear has also dropped their gloves as they have flown out into the music scene with a pronounced ambition. With the release of their first album last fall, an accompanying DVD quickly followed. Resultant to their drive, local publications have dotted their pages with DTF's name, and heads have been turned in their direction.

And maybe the time is ripe. With other bands like Orbit Service having laid their tracks in town for the last several years, (included is Orbit Service's recording studio and record label, Helmet R00m) - maybe Drop The Fear is the head that will surface from this genre to swim in Denver's bourgeoning music scene.

And if the particular connotations of Shoegazer and Electronic Rock haven't always been flattering to its musicians - then Drop The Fear is able to solve that. They don't drift aimlessly away for minutes on end. The band's aptitude for songwriting is evident, clear - and their hooks are crisp.

Sarah Marcogliese's sweeping vocals are sweet and, nearly angelic. In a genre where pain and torment is all too obvious, Drop The Fear's sound is unmistakably, if anything - redemptive. Coupled with Ryan Policky and Gabriel Ratliff's sense of flow and rhythm, Drop The Fear is sure to enchant. For free.

With all the action in Denver's music scene, it was nice to hear Drop The Fear's feelings on what, exactly, is going on in the Queen City.


What are your thoughts on the Denver music scene?

We are so excited about the Denver music scene! There are several different areas of the scene that are doing well: Bands like Love.45, the Czars, Devotchka, Hot IQs, and the Fray are getting national recognition. Independent stores like Twist and Shout, Independent Records and Bart's continually push the local artists in our scene; and more than anything the fans and media have really embraced our music culture giving it the attention it needs to be self-sufficient and strong.

Do you think that it's possible for a Denver-based band to breakout onto the national scene?

It is not only possible, but has been happening more and more recently. Thanks to all of the support in our area bands can get the exposure they need to get out into a national market. We have an extremely strong creative flow in this region and the reciprocation of that creativity has allowed these bands to break out.

You've been identified as emerging from the Space-rock, Shoegazer/Electronic Rock scene. Bands like Orbit Service, The Very Hush Hush, Bear vs. Larger Bear. Do you feel this is an accurate genre-typing of Drop The Fear?

For the most part that is an accurate statement. However, we try not to look at the music as a progression within one genre. Keeping less boundaries with music allows for continual change in direction. For example, we also have several remixes that we have done or are working on currently. We have remixed ourselves as well as groups like Orbit Service. It allows for a larger spectrum of support amongst artists, as well as different interpretations of our music to share with people.

Why the name, Drop The Fear? Where does this come from and what's its meaning?

When we were working on ideas for our name we all came up with some derivative of "drop the fear". We all had some notion about letting go of fear that we wanted to embrace for ourselves and our audience. Their was a need for that mentality in our local and global community. With the government and media pushing "fear" daily, it only seemed natural to utilize this powerful message as a foundation for our music. Once we decided on "Drop the Fear" as our name the possibilities were endless for our music, our films, and our message. The meaning behind the name is essentially that we are all equal and there is no need to let fear stand in our way of living a fulfilled life.

Musical, or otherwise - influences?

There are so many influences that have gotten us to this point. The great thing about being in a project like this is that we all give each other the space to incorporate all of our various influences. Obviously, we have certain traits that we lean to, but there are too many to say.

With your new CD and DVD having come out - what is Drop The Fear's plans for 2005?

We have a couple of shows coming up for the beginning of the year: January 15th will be at the Church, February 25th will be at our home away from home, Hi-Dive, and our booking agency is currently working on our spring/summer tour. We are planning tours through the southwest territory and the pacific-west region due to the great response to our national radio campaign in those areas. Of course we have already begun working on our new album. Recently, we got distribution for an upcoming limited edition 10" run that we are splitting with Orbit Service. This will mark our first mass-distributed release on helmet r00m recordings. We are very excited for 2005 and all that it will bring to Denver and our local scene.

Visit Drop The Fear's website at: www.dropthefear.com.